Gartner Top 10 Strategic Technology Trends for 2019
Each year Gartner produces one of the most comprehensive lists of strategic technology trends that CIOs and other senior executives should be considering.
Following is an overview of the Top 10 Strategic Technology Trends for 2019, as presented by David Cearley, Gartner Distinguished Vice President Analyst, at Gartner 2018 Symposium/ITxpo in Orlando, Florida. The list highlights changing, or not yet widely recognised trends, that will impact and transform industries through 2023.
Contents
"The future will be characterised by smart devices delivering increasingly insightful digital services everywhere," said David Cearley. "We call this the intelligent digital mesh."
Intelligent: How AI is in virtually every existing technology, and creating entirely new categories.
Digital: Blending the digital and physical worlds to create an immersive world.
Mesh: Exploiting connections between expanding sets of people, businesses, devices, content and services.
"Trends under each of these three themes are a key ingredient in driving a continuous innovation process as part of the continuous next strategy," Cearley said.
Autonomous things exist across five types:
Robotics
Vehicles
Drones
Appliances
Agents
They each use AI to complete tasks historically done by humans, and to interact more naturally with their environments.
Gartner predicts 10 percent of new vehicles will have autonomous driving capability by 2021, compared with less than 1 percent in 2017.
Virtually every application, service and IoT object will include an element of Artificial Intelligence to automate or augment human actions or processes. However they will operate with varying degrees of capability, coordination and intelligence, so it's best they are used for narrowly defined purposes.
In this era of Big Data, data scientists have vast amounts of data to prepare and transform, analyse and report. With the increasing amount of data, it is becoming impossible to explore every possibility, which means organisations can miss key insights their data scientists don't have time to explore.
Augmented analytics allows data scientists to automate algorithms to explore more hypotheses, and simultaneously remove any personal bias. Augmented analytics and insights will become embedded into enterprise applications.
Citizen Data Scientists
Gartner predicts the number of citizen data scientists will grow five times faster than the number of expert data scientists through 2020.
A "citizen data scientist" is a person who creates or generates models that use advanced diagnostic analytics, or predictive and prescriptive capabilities, but whose primary job function is outside the field of statistics and analytics. These "power users" can perform both simple and moderately sophisticated analytical tasks that would previously have required more expertise.
Citizen data scientists will use AI-powered augmented analytics tools that automate the data science function to identify data sets, develop hypotheses and identify patterns in the data. Gartner predicts more than 40% of data science tasks will be automated by 2020.
AI-driven development looks at tools, technologies and best practices for embedding AI into applications, and uses Artificial Intelligence to create AI-powered tools for the development process. For example:
Expanding from tools targeted at data scientists, to tools targeting developers
AI-powered solutions leveraging AI-driven capabilities that assist developers by automating tasks related to the development of AI-enhanced solutions
AI-enabled tools being enhanced with business domain expertise to automate activities in the application development process
The market was quickly transitioning from professional data scientists being partnered with application developers, to a model where professional developers can work alone using predefined models delivered as a service.
Gartner predicts that at least 40 percent of new application development projects will have AI co-developers on the team by 2022.
Technology Trend 4: Digital twins
The idea of "digital twins" goes back to computer-aided design of things, or online profiles of customers. However today's digital twins vary in four ways:
Robustness of the models; they're focused on supporting specific business outcomes
Linked to reality, sometimes in real-time to aid monitoring and control
Application of big data analytics and artificial intelligence to identify new business opportunities
Ability to interact and evaluate "what if" scenarios
Gartner reported that 24 percent of organisations implementing IoT projects were using "digital twins". Today this is typically for predictive maintenance, as well as business process and asset optimisation, the monetisation of data, research and development, and developing new business models.
In the presentation Cearley referred to the growth in edge or endpoint devices, either used by people or in embedded applications.
Edge computing is based on the idea that keeping traffic local , closer to the source of information, will reduce latency.
Gartner expects a consistent increase in the embedding of sensor, storage, compute and advanced artificial intelligence capabilities in "edge devices" through to 2028. Intelligence will move closer to the edge, in a variety of endpoint devices – from industrial devices, screens, smartphones and automobile power generators.
Conversational platforms, which change how users interact with the world (such as virtual personal assistants and chatbots), will combine with technologies such as virtual reality, augmented reality and mixed reality to create a new immersive experience.
Gartner expect 70% of enterprises will be experimenting with immersive technologies for consumer and enterprise use by 2022, and 25% will have deployed to production. Eventually they will shift to where experiences will connect people with hundreds of edge devices ranging from computers to cars.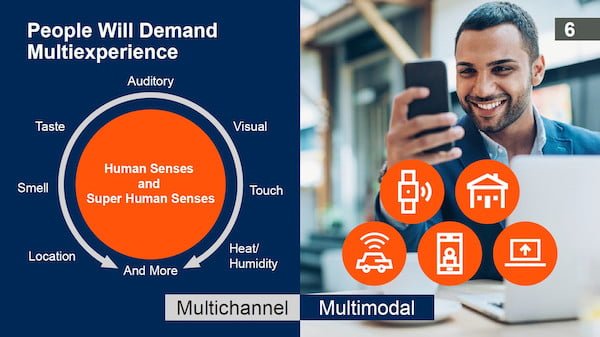 Blockchain allows companies to trace a transaction, and work with unknown parties without a centralised party (eg. a bank). This reduces business friction and potentially reduces costs and settlement times, as well as improve cash flow. Its application began in finance but has expanded to Government and industry, such as healthcare, manufacturing and supply chain.
At this point blockchain models are not fully developed and therefore difficult to scale, however blockchain is predicted to create $3.1 trillion in business value by 2030, so organisations should start evaluating the technology.
Gartner defines these increasingly connected, intelligent, and autonomous spaces as physical or digital environments populated by humans and enabled by technology.
The best example is smart cities, where geographic locations that combine residential, business and industrial communities are designed using intelligent urban ecosystem frameworks, and with all sectors linking to social and community collaboration.
For example:
London opening up its city data
Dubai using blockchain
Singapore focusing on IoT and a digital twin of the city
Montreal working on intelligent snow removal
Smart spaces will enter a period of accelerated delivery as individual technologies merge, working together to create a more collaborative and interaction environment.
Consumers are increasingly aware of their personal information and the value to organisations, and concerned with how it's being used by public and private entities. Ultimately discussions about privacy need to be grounded in ethics and trust, and move toward "Are we doing the right thing?"
Organisations need to move from being compliance-driven to being ethics-driven, in order to build trust into their brands.
Gartner predicts that by 2023, 20 percent of organisations will be budgeting for quantum projects, compared to less than 1 percent today.
Quantum computers are an exponentially scalable computing model, and are able to theoretically work on millions of computations at once. For example, today's computer would read every book in a library in a linear fashion, whereas a quantum computer would read all the books simultaneously.
Quantum computing is still an emerging technology, and apart from a small number of organisations where specific quantum algorithms would provide a significant advantage, most businesses could remain in exploration phase through 2022. It won't be until between 2023 to 2028 that quantum computing will begin to create meaningful work, however it is still worthwhile for organisations to improve their understanding of potential applications, and consider any security implications.
https://www.bespoketraining.com/wp-content/uploads/2019/02/Top-10-Strategic-Technology-Trends-for-2019-Gartner.png
250
545
Christof Bogacs
https://www.bespoketraining.com/wp-content/uploads/2017/03/Bespoke-aws-logo.png
Christof Bogacs
2019-02-06 14:30:44
2020-03-06 15:33:15
Gartner Top 10 Strategic Technology Trends for 2019