How Cloud Training Accelerates Cloud Adoption

Cloud training is essential if your organisation is one of the many considering a Cloud-First strategy. According to IDC's Cloud View Survey, 70% of CIOs identified themselves as having this kind of strategy.
Over the next couple of years, even more organisations will move toward working completely in the cloud. Companies like Netflix and Time Inc. already do, having adopted aggressive Cloud-First strategies.
Moving to cloud is about more than technology though. Organisations need employees with a deep technical understanding of cloud.
This is why cloud training is so critical. Businesses shifting workloads to cloud can leverage cloud training to accelerate adoption, overcome concerns, and extend the benefits of cloud.
Contents
What is Cloud-First?
Before we go any further, it's important we define what we mean when we use the term Cloud-First.
In a Cloud-First strategy, when you review existing processes or create new ones, you consider cloud based solutions before others. In this kind of strategy the question for any app or workload isn't "why cloud?" it's "why not cloud?".
An easy way to picture a business's path to Cloud-First is to divide the process into seven stages. Organisations move from one stage of adoption to the next. It's only rarely that they regress to an earlier stage or skip one completely.
Obviously cloud training plays an important role in this journey, but we will touch on that later.
The stages of cloud adoption are:
No interest in cloud
Organisation educates themselves about cloud
Organisation evaluates cloud for specific workloads
Organisation plans to implement cloud services
Organisation uses cloud for 1-2 workloads
Organisation uses cloud for several workloads
Organisation uses cloud for all (or nearly all) workloads
According to research carried out by IDC, roughly 65% of organisations fall into stages five, six and seven. This means they are using cloud for at least one workload.
Only about 5% of organisations are at stage one, which means they have no interest in cloud computing.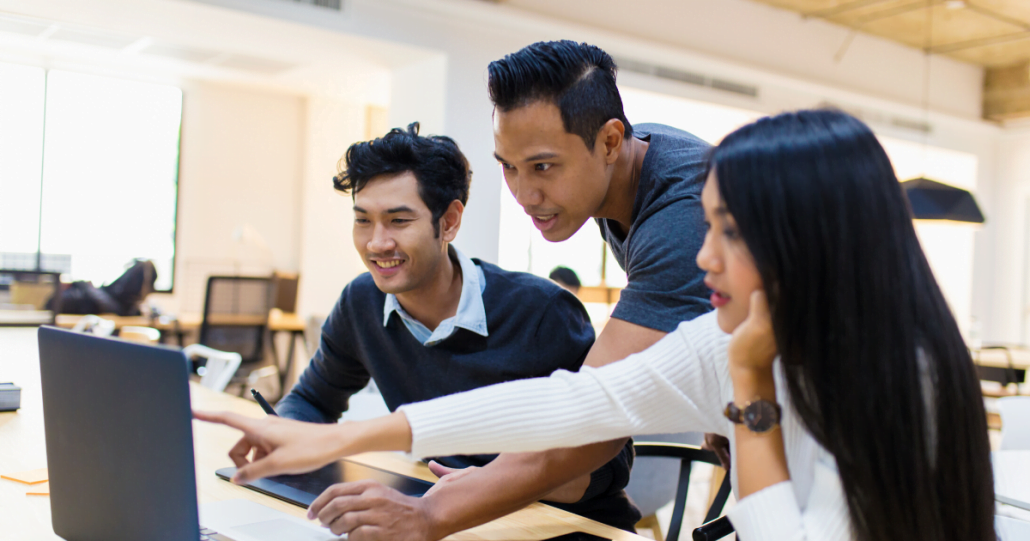 Some businesses easily leverage cloud, quickly gaining benefits from limited integration; however, most organisations have more complex needs. Their cloud environments require careful planning and management from individuals who have undergone cloud training.
Without the right people with the right skills cloud adoption, and the journey to Cloud-First, is slow and prone to mistakes. This makes it harder to keep C-level execs and other key decision makers on board. Cloud training will provide you with the deep understanding of cloud technology required to cultivate such skills.
To maintain a reputation as Australia's number one bank for business, NAB has adopted an ambitious Cloud-First strategy. By investing $4.5BN over 3-years, NAB aims to have 35% of their 2,500 applications in the cloud by 2020. To reach this lofty Cloud-First goal they have invested heavily in cloud training.
At AWS Re:invent 2018, NAB's former Cloud Chief, Yuri Misnik, talked about the need to "establish a training program that prepares our workforce with the necessary skills to enable our path to the cloud". This program also gives employees the opportunity to "quickly ramp up on AWS technologies and develop skills that will enable them to innovate digital experiences for customers".
For this reason the NAB Cloud Guild was established. This is cloud training program gives employees opportunities to develop cloud computing skills. From beginners to professional developers, NAB Cloud Guild provides employees with the opportunity to acquire or build their cloud skills. This supports NAB's digital transformation.
Currently NAB's cloud migration is well ahead of schedule, with over 500 workloads moved to the cloud as of October 2019. This has only been possible through a significant investment in cloud training.
Investment in cloud training impacts how quickly organisations can adopt cloud. Although adoption isn't the goal, the quicker a business can adopt cloud the more rapidly they will gain the benefits. Research shows businesses that invest in comprehensive cloud training benefit most and gain those benefits faster.
Comprehensively Trained Organisations are those that offer eight or more hours of training in a topic. This cloud training happens across multiple target audiences (IT teams, non-IT employees and teams etc.) across four or more topics.
Minimally Trained Organisations only offer cloud training for a single target audience on a single training topic.
Sure, you know the advantages of shifting to the cloud, but the minute things get difficult others may become sceptical. Without buy-in from upper management, there will be no trust in cloud based solutions (and no money to try them).
If business leaders, IT leaders, and C-level executives don't have a common understanding of the true capabilities of a cloud-based infrastructure, the organisation may hesitate.
You need to build trust in the cloud to make this shift. Comprehensive cloud training is the best way to do this.
Organisations that want to get the most out of cloud should train a wide range of stakeholders on cloud fundamentals. Deep training should be offered to key technical teams.
In conclusion, you can find out more about getting executives excited about cloud here.
Comprehensively trained organisations see significant benefits over those that are only minimally trained. These include*:
Simpler IT infrastructure: They are 2.2x more likely to agree that cloud can simplify and standardise IT infrastructure and applications
New capabilities, faster: They are 2.5x more likely to agree that cloud accelerates the addition of new technical and business capabilities
Improved use of resources: They are 4x more likely to agree that cloud improves the use of IT resources
Improved ability to scale: They are 3.7x more likely to understand how to successfully increase and decrease capacity on demand
Quicker to innovate: They are 2.7x more likely to agree that cloud jump-starts innovation
Improved global reach: They are 5.3x more likely to agree that cloud improves global reach of products and services, better serving clients
Across all of the concerns related to cloud adoption, comprehensively trained organisations have a lower sense of concern. They also have a greater belief that cloud can be customised to reduce any of these concerns.
For example, organisations that have undertaken comprehensive cloud training are better able to realistically assess security concerns. This includes implementing safeguards and building improved security processes when necessary.
*Source Train to Accelerate your Cloud Strategy, IDC white paper
For each employee that interacts with cloud you need to answer this question: what kind of training do they need?
Put simply, the more important a skill, the more you need to invest in cloud training. This is where Global Knowledge's Criticality of Skills Index comes in. This handy tool assists you in identifying the optimal training type based on what type of skills different employees need.
Learn more about the criticality of skills index here.
Now you understand the importance of comprehensive training, let's take a look at the specific types of training available. Not all cloud training is created equal, so it's important to understand the pros and cons of each type.
Self-guided Study
There's a wide range of white papers, blog posts, webinars and other cloud computing resources available. These are perfect for IT professionals who want to dive deep into specific technical topics. Although this type of training is highly accessible and free, it lacks structure and external guidance.
Experiential learning
This occurs on teams when staff gain the practical knowledge needed to develop and operate in real cloud environments. Three to six months of hands-on experience will generally give an employee a good baseline of working knowledge. This can then be expanded on with formal training.
E-Learning
Online modules are a great fit for students that want to learn at their own pace in a structured environment. E-learning is generally cheaper than in-person equivalents but it lacks access to hands-on activities. Hands-on activities are critical to solidifying a student's knowledge of cloud topics.
Blended Training
This type of cloud training has been growing increasingly popular, combining e-learning modules with virtual classroom training. Although linked to better outcomes than e-learning alone, the lack of in-person elements means it is not as immersive as in-person training.
In-person Instructor Led Training
In-person training provides students with time to focus on learning the cloud while having access to a qualified trainer. Students can ask questions directly and skills taught will be contextualised so they are immediately applicable to a working environment. Research has shown that this kind of cloud training delivers the best learning outcomes.
Private Group training
This is instructor led training for the employees of one organisation. It is conducted onsite and the content delivered is catered specifically to the needs of that organisation. We offer private onsite training options for groups of 15 or more students studying the same course.
Integrating training into your organisation's larger cloud strategy is key to hitting your objectives. Accordingly, you should engage with a  training provider as early as possible in your cloud adoption journey.
This is where we come in.
We work with your organisation to determine who on your team would benefit most from each type of training. We can also create a customised training plan based on your team's cloud knowledge and goals. This gives you the ability to align  training to your objectives, minimise disruption and forecast your training spend.
Find out more about cloud training plans for business.
Congratulations! You now have an understanding of the benefits cloud training can bring. Your next step is to download the 'Train to Accelerate your Cloud Strategy' white paper from IDC.
This white paper is a deep dive into the insights explored in this blog post. It also contains case studies from organisations that have gained the benefits of comprehensive cloud training.
https://www.bespoketraining.com/wp-content/uploads/2020/03/8.png
630
1200
Christof Bogacs
https://www.bespoketraining.com/wp-content/uploads/2017/03/Bespoke-aws-logo.png
Christof Bogacs
2020-03-06 10:00:15
2020-03-17 12:40:43
How Cloud Training Accelerates Cloud Adoption